---
DESIGNS OF OAK SLATS
¯¯¯¯¯¯¯¯¯¯¯¯¯¯¯¯¯¯¯¯¯¯¯¯¯¯¯¯¯¯¯¯¯¯¯¯¯¯¯¯ 
---
Accessories
¯¯¯¯¯¯¯¯¯¯¯¯¯¯¯¯¯¯¯¯¯¯¯¯¯¯¯¯¯¯¯¯¯¯¯¯¯¯¯¯
---
FORMATS OF PANELS
¯¯¯¯¯¯¯¯¯¯¯¯¯¯¯¯¯¯¯¯¯¯¯¯¯¯¯¯¯¯¯¯¯¯¯¯¯¯¯¯ 
RECTANGLE
61 x 122cm, 244cm, 278cm
or length as desired



SQUARE
61 x 61cm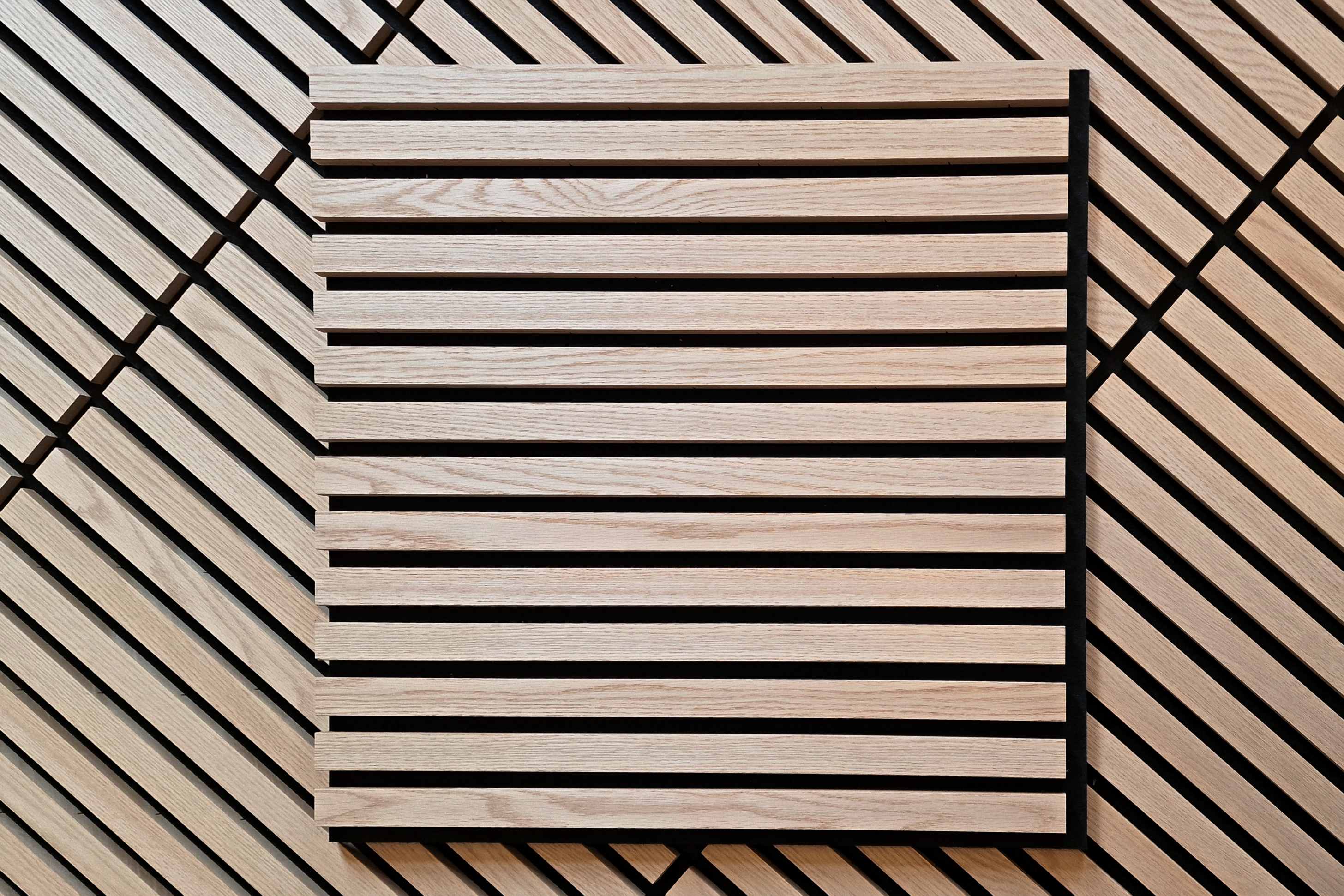 ---
CONSTRUCTION OF SLAT WALL
¯¯¯¯¯¯¯¯¯¯¯¯¯¯¯¯¯¯¯¯¯¯
 
1. Oak lamella

The veneered oak slats with a gently bevelled edge on the MDF carrier fulfill the function of a sound diffuser.

The natural oak veneer with an oiled and lightly brushed surface makes the slats a beautiful design element that not only looks great in the interior, but has the ability to disperse and weaken sound waves throughout the space and thus reduce echoes and resonances.

Due to the ability of diffusion, the lamellas themselves are an effective tool in solving room acoustics problems.

2. Acoustic felt

Acoustic absorption PET panel fulfills the function of sound absorber and sound insulation.

The panel is made from environmentally sustainable recycled material PET bottles, therefore it is a great choice for those who are looking for an ecological and sustainable solution to improve the acoustics in the room.
The acoustic panel has a high efficiency in sound absorption, and its use can significantly improve the sound quality and
make the acoustic comfort in the interior more pleasant.

3. Rockwool (optional)

The Oak Acoustics acoustic panel works great for medium and high frequencies. Volume is needed to increase absorption and sound insulation even at low (bass) frequencies, so we recommend adding volume with ROCKWOOL acoustic mineral wool.

Rockwool sound insulation can be placed behind the lamella panels, which will increase their ability to absorb low-frequency sound and can even more effectively prevent the penetration of sound into or out of the room.
START YOUR OWN PROJECT
WITH SLAT PANELS
_____________________________
1. Try a new room design with our slatted panels using the online visualizer
ONLINE VISUALIZATION - CLICK HERE

2. Order a sample via the website or visit our showroom in Košice
I want to order a sample - CLICK HERE

3. Order panels in a custom design and size ( combination of slat surface, slat width, acoustic felt color and size )

4. Choose the assembly method and we will supply you with the necessary materials
Assembly methods - CLICK HERE